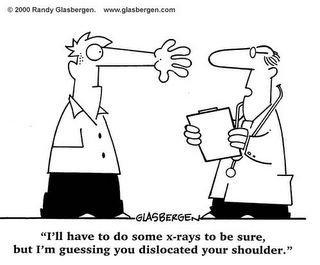 I haven't broke or dislocated anything yet, but my arms are hurting after my workout yesterday. As many of you know, we have kicked off
Today In Alabama's 12 Steps To Fitness
. I have been hitting
Gold's Gym
daily and have started my new diet. I hope all of this work will pay off in the long run! By the end of April I'm going to start doing the weather in a tank top. I'm sure the management would put an end to that pretty fast!
Speaking of management... My News Director informed me yesterday that the blog had some grammatical errors in it! I did what she said and corrected the mistakes, but there was one thing that I had never heard of before??? I never knew that you had to put 2 spaces between the period at the end of the sentence and the start of the next sentence. After asking around, I think it is a matter of what machine you learned to type on, typewriter or computer. My mother was a court reporter before she opened our
family business on Music Row
. I thought I was pretty knowledgeable about typing, but I guess not! Here's a
little website that talks more about the one space, two space controversy
. By the way, I tried to put two spaces after each period today and the program wouldn't even allow it! Will I be in trouble again??? Don't worry folks, she (my boss) was just picking on me... I wasn't in trouble.
If you are an English teacher, feel free to email me at
rvaughan@wsfa.com
PS- If my boss picks on the blog anymore I'm going to post her picture and email address so that people can take up for me! Ha Ha Ha....