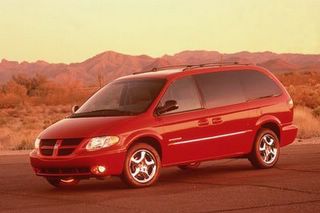 We did it... we got a Dodge Grand Caravan minivan!
So I ask the question
... Can I be cool in a minivan? I felt like the captain of my own little ship as I cruised down the road yesterday.
Another question....
Can you have road rage in a minivan? I can't see anyone yelling at me from a minivan, so I don't plan on doing any yelling from mine either. I guess if nothing else, the minivan will help my road rage. LOL
Two couples that we hang out with have brand spankin' new Toyota Sequoias. You
can be
cool in a Sequoia,
you can
have road rage in a Sequoia, but can you change a diaper as easy in a Sequoia??? Maybe so, maybe not. Even if you could, I'm too cheap (or broke) to buy a Sequoia! Although I'll be the first to admit...
They are sweeeeeeeet!
Although I am minivan owner, I am not a full-time driver.... that title goes to my wife. I still have the Chevy truck. Hopefully it will be my turn to get a new ride next year. I've wanted a Jeep Wrangler since I was 15, so I may fulfill that dream next year.
Anywho, I'm going on vacation for a few days. I hope to update the blog from home a little while I am off work. In the meantime I will leave you with a couple of blogs from the news business to look over. The first site that I recommend comes from the guy that got me started on my blog!!! He has his own "morning blog" and works at WKRN in Nashville, TN. He's a good guy to get advice from! When he goes away on vacation, I think one of the other anchors or reporters take over his blog! Should we let Tonya take over my blog one day? You tell me! His website is:
www.neilorne.com
The second site comes from the same station and is updated by all 4 of the weather folks there. Lisa Patton and Davis Nolan are my mentors in this business. They have helped me sharpen my skills and have helped me make many career decisions. Here's the blog for News2 Storm TEAM:
www.nashvillewx.com
Here's one more weather blog. These guys strictly talk weather on their blog. This blog originates from my old station in Arkansas:
http://kait8.blogspot.com/
If you have any good blogs to share with me OR you want to tell me how cool the minivan is (see above!), email me at
rvaughan@wsfa.com
Have a great day folks!
Cat Update: No Cat..... and really no hope. This might be the last update.