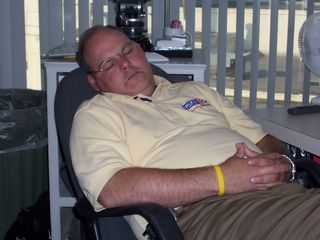 When you work the early shift, dinner (breakfast) breaks are used for sleep instead of eating. This was Jeff on his break this morning. When he wakes up, I think I'll catch a few zzz's as well. Actually he just woke up and noticed his picture on the blog! LOL
Anywho, rain is finally on the way it looks like! All of us here in Storm Center 12 have had several phone calls and emails about outdoor graduations and the Grand Opening of Hyundai. All I can say is that there is a 70% chance these events will be wet. Beyond that, only
*ONE*
knows.
I had several people respond to yesterday's blog post. Here are a few of the emails that I go about using the 500 mb Height map:
I have learned many things about the weather from you, Ryan. You have a way of teaching little bits of information at a time that adds up to understanding why the weather acts as it does.
I am interested in other parts of the weather forecast other than "what the temperature is, and when it might rain".
Thanks for all your weather forecasting and the personal touch you add to it.
---Nancy
Hey globs are good. Keep up the good work. We need more globs and blogs. If you get a chance, we need some help with fishing forecasts. Any help is appreciated very much.
---Steve
WSFA Storm Team,
Keep those maps. Years ago I used to be terrified of bad weather. Now because you have taught so many things to the viewers about weather, I understand it better and can know the weather when storms, etc. approach.
Thanks, you're the greatest.
---Donna

Dear Ryan, I do not have the opportunity to view your forecast because I work 3PM til ? and don't awake til 1PM. However, in this area, everyone is very interested in the weather. Farmers to Aircraft Techs, like myself, count on an accurate forecast. Right now I have over$300 mil. in aircraft and I need to know if they haveto go inside and locked down. Weather babes are cute, but I need someone I cancount on. I read your reports and check your radar often. If people want a quickie 50/50 forecast they can tune to the weather channel at 8 past the hour. We need the full story in order to prepare.
---Dave
Thanks everyone for the emails, even those that didn't make it to the blog. It's good to get good email, but feel free to yell at me too! I'll post the bad emails as well! I have before! LOL Have a great day and as always, feel free to email me
rvaughan@wsfa.com