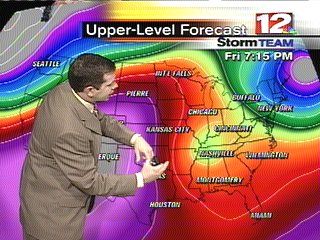 There is a movement in the News industry to "dumb down" the weather. There are actually weather guys and gals at stations across the country that can not show "cold fronts" on a map, can't say "dewpoint", or can't say "Upper Level Low". These stations only want their weather people to tell the viewer if it will rain and what the temperature will be that day.
As you can see in the above picture, we're not one of those stations. I wasn't trying to teach you everything about this 500 millibar level map this morning, I was just showing you that the little round "yellow and blue glob" is heading south in our direction!
AND THAT MEANS RAIN!!! YAY!
I feel it is something the viewer can clearly see and it gives the viewer something to back up "why" I think it will rain Friday.
So what do you think? Should I leave out the "Upper Level Forecast"? You tell me... email me at
rvaughan@wsfa.com
If you didn't see the forecast, click on the Storm TEAM 12 Weather Page on the left side of this page and look under
Featured Videos
to see this mornings weathercast.
PS- Apparently nobody wants to be featured as the "Spotlight Blog Reader". I didn't get any emails, even though hundreds read yesterday! One last day to see if anyone is interested!
PSS- Check under "Other Blogs" today for James Spann's blog. He has some good information about some Tropical Weather that might move into the Caribbean!