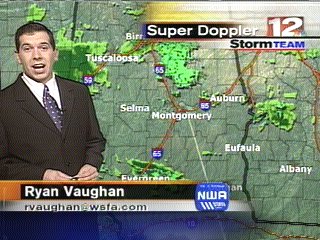 In the television business, you need to always be in a good mood when the camera comes on! It's not something you can fake... you need to genuinely have a good attitude going into a show. This morning it was hard to get in a good mood, but Tonya gave me a pep talk when I got to work.
Why
you ask???
Here's the deal... On my way to work I
not only
got run off the road by some "genius", but noticed when I got to work that my tire was going down. Now I have a flat tire that I am about to go take off and get fixed. As you can see, it hasn't been the best of mornings! HOWEVER, our morning producer, Amanda, reminded me that God did give me a few blessings this morning... I didn't get in a wreck and my tire stayed up until I got to work! She made some valid points!
Anywho, I jacked the truck up and loosened the lugnuts during the show while Tonya was doing the news. (I bet that surprises you!) Now I am off to go get it fixed and I am actually in a good mood! Imagine that! As always, feel free to email me at
rvaughan@wsfa.com
Quick Update (8:45): I found out that I have "Road Hazard" coverage on the tire, so it will be a free repair! My truck is now sporting a very stylish "Dinky Donut" until after work!" Changing a tire is always so much fun!
PS-I may update the blog later today to write about an intense badminton game from yesterday! Maybe some friends of mine will email some pictures I can post too!