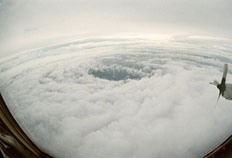 Here is a picture from a "Hurricane Hunter" flying through Hurricane Ivan last year. We all remember Ivan! Because of Ivan, we have to be careful not to "freak" people out when Tropical weather arises. One of the Hurricane Hunter aircraft will likely go out and investigate a disturbance in the Caribbean today to see if we have our first Tropical Depression or Storm of the season. It is doubtful we will have a "named" storm today, but I wouldn't be surprised if we had a named storm by Friday. This would be "Arlene" if it forms. To find out more about how Tropical cyclones get their names
click here
. As far as it becoming a hurricane... VERY doubtful.
We'll keep you up to date on the latest in the tropics without scaring you to death! Meanwhile, I'm off to go edit County Road 12. I found a lady that works with
Precious Metal Clay
. If you have never seen it, you'll be shocked to see how it works! I'll also tell you where to take classes for it as well! County Road 12 airs Friday at 6:00.
As always, feel free to email me at
rvaughan@wsfa.com
PS- Isn't that picture cool!