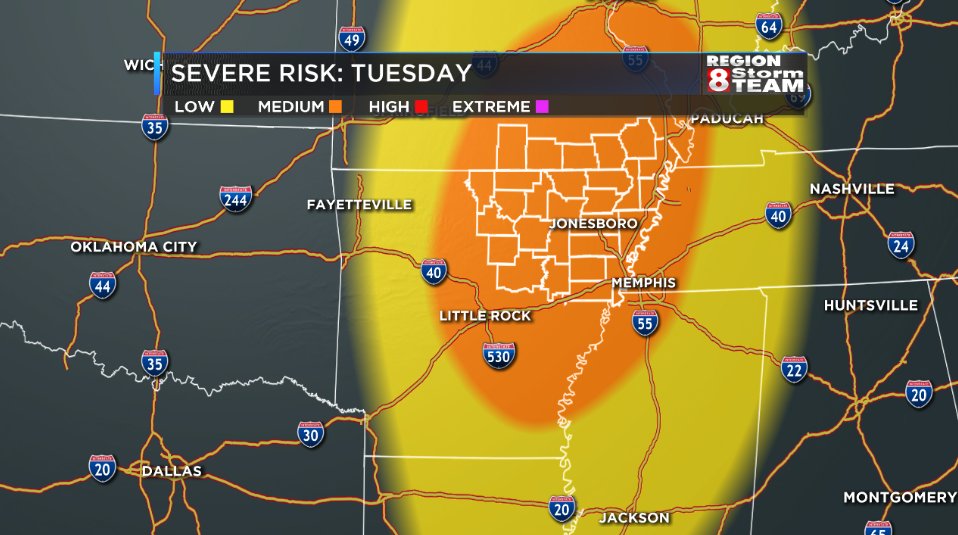 As you can see in the above image, we have a MEDIUM risk of severe weather for this evening. Here are the bullet points, as of right now:
TIMING: 5PM-Midnight
High wind is the main threat.
Isolated tornadoes are possible. They would be quick and fast, if they develop.
Might see TWO rounds.
Concerned about people traveling and people at basketball games.
I am NOT saying to cancel anything. I just want people to stay informed.
Ways to stay in formed:

Region 8 app: Have notifications ON, Correct Warnings ON, Location services ON.
TV: We will have constant updates on the bottom of the screen. We will be on air if any tornado warnings are issued OR damage starts being reported.
Weather Radio: Test to make sure it works before the storms.
Let's look at little bit of data. This is what round 1 could look like. These storms would have decent dynamics and instability to work with. High wind aloft could be transported to the ground within storms:
The next round comes in between 9-12. I initially thought that this round would not have the instability or "energy" to cause problems. The latest data says otherwise. This map below shows the "energy" with the second round.
A second line of individual cells may develop with a ton of energy and dynamics to work with, so let's not let our guard down after the first round of storms.
Stay informed on the latest information with our app through the day. We'll have you covered.
Ryan