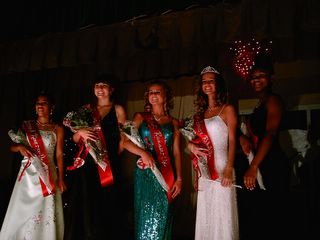 I got to judge the Reeltown Beauty Ball Saturday night! It was the first time I have ever judged a pageant, so I hope I made everyone happy in Reeltown! Judging is actually harder than you might think! The other judges and I spent a couple of hours interviewing the girls prior to the pageant. I quickly realized that all of them were intelligent and ambitious young ladies. I didn't count up the scores, but it had to be close!
I have a couple of "blog" shoutouts before I sign off. I want to say "howdy" to my fellow judges: Leesa Alexander, Elvia Henderson, and Everette Reynolds. I had a great time spending the evening with you guys! I also want to suggest
Oscar's
to anyone in the Dadeville area. Reeltown fed us some shrimp, chicken, and corn nuggets from this restaurant and it was AWESOME! I have got to get back up there to eat again someday!
Anyways, I better sign off now. Sorry that the picture is dark... my flash wouldn't work right! If you have any pictures from Saturday night, email me at
rvaughan@wsfa.com
and I'll switch it out.
Anybody can email me at
rvuaghan@wsfa.com
if you have something to tell me. Have a great day!