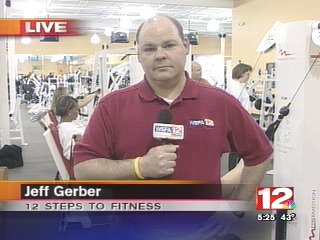 Alright I need some help folks. I want Jeff to do some HARD work. You may have seen the "Jeff, Do My Job" segments on Today In Alabama in the past, but I want him to do some REAL work. He's sitting here in the Storm Center as a type with his feet propped up on the counter and his eyes closed (I wish I had my camera today)! Put him to work!!! Don't send your request to him, because he may not respond back if it's to hard. Send the the request to
tia@wsfa.com
T-I-A stands for Today In Alabama, there is not a girl named Tia here.
Jeff and I are like brothers that give each other a hard time. I can't wait to see him work as a housewife, plumber, or even a mechanic.... I wonder if Jeff can even change the oil in a car???
As promised here are some emails from blog readers. The first is another from the "Avid Fan Of The Weatherman:
It's ME again,Ryan,

I only hit the 'net on Saturday mornings, so i'm just reading your response to my ramblings.
Make no mistake I like your 'BLOG', I just could not understand some of what you were trying to say.
Actually most of it. But to your credit, it is more fluent, coherent and more interesting to me than the last time I read it. So maybe the criticism was taken the way I meant it, constructively. By the way, that MN. waether story is 'HOT'.

Avid Fan of the Weatherman
This next one really pumps up the ego on a Monday morning!
IT TOOK ME FOREVER TO FIND YOUR BLOG TODAY.....ARE THEY GONNA PUT THE LINK BACK ON THE HOME PAGE OR WHERE IT IS NOW....I GO THRU RYAN BLOG WITHDRAWAL IFI MISS A DAY....THANKS FOR YOU FUNNY STUFF.....IT KEEPS ME GOING!!
-Angie