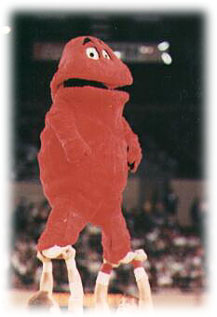 Well, my beloved WKU Hilltoppers are not in the Big Dance this year! They messed up in the Sunbelt Tournament! Oh well... maybe next year!
Now it is time to fill out the brackets and enter the workplace office pools!!! Likely the most popular form of office gambling in the nation! I read an article one day saying that millions of dollars are bet on March Madness through office pools alone! Those little $5 wagers must really add up! The same article talked about how a lot of that money is won by women. Apparently men don't know hoops as much as the ladies!
When I lived in Kentucky, the state practically shut down when March arrived. People took 2 week vacations, took comp days, had long lunch breaks, and sometimes never returned from lunch! Basketball is everything there. Down here in Alabama, football is everything! I wonder why that is???? Who knows....
With that said, I predict Kentucky to win the whole thing. My wife is a big UK fan, so that will make her very happy! I'm sure her bracket will have them winning too!
hmmmm.... maybe she'll win us some money
If you need a bracket to print off, I made it easy for you....
Click here
Don't forget to enter our NCAA Bracket Challenge on our website by
clicking here.
As always, feel free to email me at
rvaughan@wsfa.com
PS- I didn't post the pictures of the President's visit because they came out dark! I'll try to edit them this week! One other thing.... don't forget to check out my Relay For Life website by
clicking here
You can donate the money you are not using for the office pool OR donate the money you win!!!