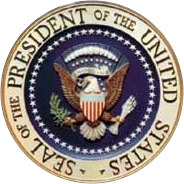 I asked Friday what you folks thought about President Bush coming to town. Here's what some of you had to say:
We happened to have voted for President Bush,but even if we had not, it is a great event for a president to come to our town. I look forward to the news coverage, and hope I don't need to go where the roads are closed. Have a good day.
(We enjoy your weather/news coverage and your blogs.)
Patricia
Hi Ryan,

I agree that the president coming is a "big deal" regardless of your political preference. I actually had the opportunity to see former President Ronald Reagan when I was in junior high school. My band instructor, Mr. Richard Nelson, loaded about 6 of us onto the back of his pick up truck and took us to the civic center to see President Reagan. He paid for our tickets and everything!! It was not until President Reagan's death that I realized how lucky I was to have actually been a part of that. I know if it had not been for Mr. Nelson, I would never have seen him. I think that was pretty cool.

Thanks,
Erica
Good Morning ,

I saw President Bush Sr when I was 6 or 7! Even at that young age I was super excited about seeing him! I thought it was too cool!! But I will not be able to see President Bush in person! I have already made plans to do something else on that day. I will be on my way to Florida to see my Sister! But, I will probably get caught up in security part of it because ill be traveling I 85 n will get off at Taylor Rd ext to head south on 231

Claire
P. S. I always enjoy the news n try not to miss any news casts if at all possible!!
KEEP THE BIG SMILE ON YOUR FACE!!! :) I always read the BLOG!
Thanks for the emails! I like to see what you think and if I am thinking like the rest of the world! I sometimes realize that I'm the oddball! I'm going to sign off for now and analyze the weather! We got a chance to see some big 'ole storms tonight! Stay tuned!
As always, feel free to email me at
rvaughan@wsfa.com
PS-Over the next few weeks you will be hearing us talk about this year's Relay For Life! If you would like to help me reach my goal of $1200 you can
click here to donate
! Thanks for your support! I'll talk more about Relay For Life later this week.