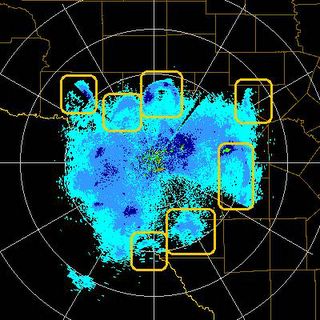 Did you know that you can see more than just precipitation on radar! You can see bugs, dust, birds, and even bats! That's right... bats. In Texas, where there are a lot of bats roosting, meteorologists can sit back and watch bats take flight! In other parts of the country you can see flocks of birds. When I lived in Arkansas, I could occasionally pickup what appeared to be flocks of ducks or snow geese coming into the state. Here's a website with more info and some more images.
Click here.
The picture above shows swarms of bats taking flight. The crescent shapes are the flocks of bats.
In other news, the weekend is almost here and I am really looking forward to a weekend filled with "nothing". I have nothing planned and I kind of like it! Tomorrow I hope to have a list of some "stuff" happening within the viewing area. If you have something you would like to share... email me at
rvaughan@wsfa.com
PS- The "into" lady (Nancy) emailed me again and many others emailed to take my side. Despite some more entertaining comments... I decided to let it slide. However, if anyone counted the "intos" today... email me your total! LOL

PSS- Are there any BIG Weather Geeks out there that understand the pun intended in the title of today's blog?